Welcome to the The Talisman Series by Brett Salter Wiki!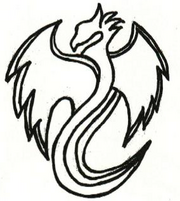 The Talisman Series reveals the clandestine workings of the dragon race and their knights who embrace the role of protecting our world from The Tyrant King and his evil Darkbrand army.  Whichever side controls the Talismans and their magic determines the destiny of the world. The question is, what are these Talismans, and how can they be used for the good of humanity and the dragon dens?
Characters

[

]
Rome Lockheed

Julian Rider

Mr. Jones

Camela Rider

Krysta Valanche

Mrs. Case

Jericho Rider

Clay Andreas

Moon Orchid

Wind Dragons of Beacon


Darkbrands

[

]
                                       Garms

                                     Minotaurs

                                      Nocturns

Link to all the Talismans in the series

Link to all the weapons of the series

Link to all the spells used in the series
Link to all the known dragon types in the series
Link to all the known dragon Dynes in the series
Legends of The Earth Realm
[
]
Think you know "The Search For Synergy"? Take the trivia quiz just below and find out how you rank worldwide!!!
https://docs.google.com/forms/d/e/1FAIpQLSeVzcx3jkxJZZx0NZx3Z0e10YWdBfrHRXjFjKkMwJDxsFsW3A/viewform

Find ALL The Talisman Series books below on Amazon: https://www.amazon.com/Talisman-4-Book/dp/B08L82QWBJ/ref=sr_1_5?dchild=1&keywords=brett+salter&qid=1617209103&sr=8-5

We're a collaborative community website about The Talisman Series by Brett Salter that anyone, including you, can build and expand. Wikis like this one depend on readers getting involved and adding content. Click the "ADD NEW PAGE" or "EDIT" button at the top of any page to get started!
Need help building out this community?
You can also be part of the larger Fandom family of communities. Visit Fandom's Community Central!
Community Founders: Write a good and paragraph-length description for your welcome section about your topic. Let your readers know what your topic is about and add some general information about it. Then you should visit the admin dashboard for more tips.